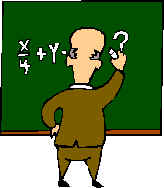 Mission Statement

Academy of Math and Science offers a comprehensive TUTORING PROGRAM
The Mission statement of the Academy of Math and Science is to cultivate math and science education in each student.
Acquired math and science skills provide catalysts for each student's success in life.
Being a student in today's Plano, Frisco, Denton, Lewisville, Carrollton, The Colony and other schools is more demanding then ever before. With the introduction of yearly proficiency exams progressing from grade to grade has become increasingly difficult. College admission requirements are growing more rigorous each year.
As a high school math teacher, college math lecturer, and a father, I understand how difficult it is to prepare our children for the road ahead of them. I see these challenges and I feel an obligation to impart my knowledge on a more individual basis. I care about today's children; they are tomorrow's future.
Alex Keselman
Founder, President